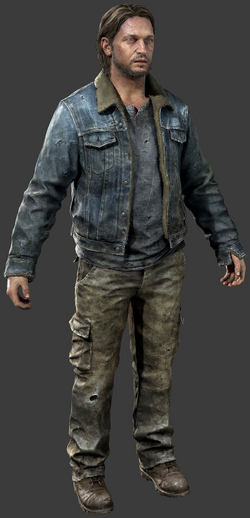 Thomas "Tommy" Miller (トーマス・"トミー"・ミラー, Tōmasu "Tomī" Mirā), is both a fictional character and tritagonist of the Last of Resident series created by Neil Druckmann and Shinji Mikami. He is a relative of Joel, Sarah, and Maria and ex-member of the Fireflies.
After leaving from the group, he continued to survive by starting his own settlement, and created a safe haven for people and families. After his brother's brutal death by Abby Anderson, Tommy and Ellie decide to get revenge at the cost of suffering.
"My cause is my family now."
—Tommy Miller, to his brother.
Appearance & Biography
[
]
Voice actor: Jeffrey Pierce (English), Not Known (Japanese), Not Known (Arabic), Not Known (Basque), Not Known (Brazilian), Not Known (Cantonese), Not Known (Catalan), Not Known (Chinese), Not Known (Croatian), Not Known (Danish), Not Known (Dutch), Not Known (Finnish), Not Known (Filipino), Not Known (French), Not Known (Galician), Not Known (German), Not Known (Greek), Not Known (Hebrew), Not Known (Hong Kong), Not Known (Hungarian), Not Known (Indonesian), Not Known (Italian), Not Known (Korean), Not Known (Mandarin), Not Known (Norwegian), Not Known (Polish), Not Known (Portuguese), Not Known (Romanian), Not Known (Russian), Not Known (Serbian), Not Known (Spanish), Not Known (Swedish), Not Known (Tagalog), Not Known (Thai), Not Known (Valencian), Not Known (Ukrainian), Not Known (Brazilian Portuguese), Not Known (Canadian French), Not Known (European Spanish), Not Known (European Portuguese), Not Known (Latin American Spanish), Not Known (Latin Spanish), Not Known (Spain-Spanish)
Biography
[
]
Appearance
[
]
Hair Color: Dirty blonde
Skin Color: Caucasian
Eye Color: Not Known
Age: Early 40s
Birthday: Not Known
Height: 180 cm. (5 ft. 11 in.)
Weight: Not Known
Attributes:
[
]
Gallery
[
]
Background
[
]
Personality
[
]
Relationships
[
]
Friends/Allies
[
]
Tess

Bill

Sam
Henry
Jesse
Dina

Christopher Redfield

Claire Redfield

Leon S. Kennedy

Rebecca Chambers

Sheva Alomar

Bradford Vickers

Bartholomew Burton

Carlos Oliveira

Mikhail Viktor

Parker Luciani

Joshua Stone
Family
[
]
Unnamed Parents (deceased)
Joel Miller (older brother; deceased)

Sarah Miller

(niece; deceased)
 

Maria Miller

(wife)

Ellie Williams

(adopted niece)
Neutral
[
]
Rivals
[
]
Enemies
[
]
Owen Moore

Nora Harris

Mel
Manny Alvarez
Nick
Jordan

Robert

Cannibals

Infected

Hunters

Smugglers

Fireflies

Jimmy Cooper (infected)

Albert Wesker

Nemesis

Nikolai Zinoviev

Umbrella Corporation

TRICELL

II Veltro
Abilities and Powers
[
]
Powers
[
]
Abilities
[
]
Physical Abilities
[
]
Fighting Style
[
]
Feats
[
]
Strength level
[
]
Speed
[
]
Durability
[
]
Skill
[
]
Miscellaneous Skills
[
]
Weaknesses
[
]
Equipment
[
]
Gadgets
[
]
Weapons
[
]
Gallery
[
]
Transportation
[
]
Gallery
[
]
History
[
]
Past
[
]
Early history
[
]
Synopsis
[
]
Last of Resident

[

]
Plot in the Series
[
]
Battles
[
]
Canon
[
]
Non-Canon
[
]
Events
[
]
Canon
[
]
Non-Canon
[
]
Early Versions
[
]
Anime and Manga Differences
[
]
Gallery
[
]
Translation and Dub Issues
[
]
Theme songs
[
]
Other Appearances
[
]
Other Media
[
]
Merchandise
[
]
Video Games
[
]
Playable Appearances
[
]
Enemy Appearances
[
]
Support Appearances
[
]
Non-Playable Appearances
[
]
See also
[
]
Etymology
[
]
External links
[
]
Notes & Trivia
[
]