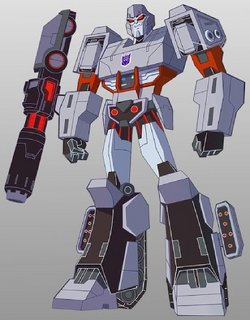 Megatron (メガトロン, Megatoron), formerly/originally birth-named as Megatronus (メガトロナス, Megatoronasu), is both a fictional character and antagonist of the MDC series created by C. B. Cebulski and Jim Lee.
He is the tyrannical and powerful leader of the Decepticon forces, and the founder of their most well-known and feared uprising. Megatron is, in many ways, a fallen hero. He was once brother-in-arms with Optimus Prime, though exactly how boggles the mind.
As a young, charismatic leader have forged in battle and the heritage of war, he began to believe in a grand purpose for his race—it is the Transformers' glorious destiny to achieve galactic domination through conquest, though his plans are often thwarted by the Autobots.
Throughout the millions of years since coining this purpose it still remains to be seen how much of his mission statement is altruistic... and how much of it is mere words built to fuel warriors to further his desire for personal power.
"Peace through tyranny."
—Megatron.
Appearance
[
]
Voice actor: Frank Welker (English), Keiji Fujiwara (Japanese), Not Known (Arabic), Not Known (Basque), Guilherme Briggs (Brazilian), Fu Chong (Chinese), Not Known (Dutch), Arto Nieminen (Finnish), Robert Dubois (French), Hans-Jürgen Wolf (German), Not Known (Hebrew), Parminder Ghumman (Hindi), Not Known (Hungarian), Oliviero Corbetta (Italian), Ja-hyeong Gu (Korean), Not Known (Norwegian), Not Known (Poland), Paweł Szczesny (Polish), Not Known (Portuguese), Not Known (Romanian), Alexander Kovriznyh (Russian), Not Known (Serbian), Juan Carlos Lozano (Spanish), Not Known (Swedish), Not Known (Thai), Antônio Moreno (Brazilian Portuguese), Stéphane Rivard (Canadian French), Not Known (European Spanish), Not Known (European Portuguese), Gerardo Vásquez (Latin American Spanish), Not Known (Latin Spanish), Juan Lozano (Spain-Spanish)
Biography
[
]
Appearance
[
]
Robot Mode
[
]
Vehicle Mode
[
]
Hair Color: N/A
Skin Color: Not Known
Eye Color: Red
Age: Not Known
Birthday: Not Known
Height: Not Known
Weight: Not Known
Attributes:
[
]
Gallery
[
]
Background
[
]
Personality
[
]
Relationships
[
]
Friends/Allies
[
]
Decepticons

Shadow Striker

Soundwave

Frenzy

Rumble

Laserbeak

Buzzsaw

Ravage

Knock Out

Barricade

Blitzwing

Demolishor

Quake

Seekers

Dreadwing

Thundercracker

Nova Storm

Acid Storm

Thrust

Ramjet

Dirge

Skywarp

Slipstream

Bruticus

Onslaught

Vortex

Swindle

Blast Off

Brawl

Devastator

Dirt Boss

Scrapper

Scavenger

Mixmaster

Long Haul

Bonecrusher

Hook

Predaking

Menasor

Motormaster

Breakdown

Offroad

Dead End

Drag Strip

Trypticon
Family
[
]
Neutral
[
]
Airachnid

Insecticons

Sharpshot

Kickback

Hardshell
Rivals
[
]
Enemies
[
]
Abilities and Powers
[
]
Powers
[
]
Abilities
[
]
Physical Abilities
[
]
Combat Skills
[
]
Fighting Style
[
]
Feats
[
]
Strength level
[
]
Speed
[
]
Durability
[
]
Skill
[
]
Miscellaneous Skills
[
]
Weaknesses
[
]
Equipment
[
]
Gadgets
[
]
Weapons
[
]
Gallery
[
]
Transportation
[
]
Gallery
[
]
History
[
]
Past
[
]
Early years
[
]
Battles of Cybertron
[
]
During the War
[
]
Dark Spark Incident
[
]
Preparing Departure
[
]
Synopsis
[
]
Transformer Titans

[

]
Plot in the Series
[
]
Battles
[
]
Canon
[
]
Non-Canon
[
]
Events
[
]
Canon
[
]
Non-Canon
[
]
Early Versions
[
]
Anime and Manga Differences
[
]
Appearance
[
]
Gallery
[
]
Translation and Dub Issues
[
]
Theme songs
[
]
Other Appearances
[
]
Other Media
[
]
Merchandise
[
]
Video Games
[
]
Playable Appearances
[
]
Enemy Appearances
[
]
Support Appearances
[
]
Non-Playable Appearances
[
]
See also
[
]
Etymology
[
]
External links
[
]
Notes & Trivia
[
]