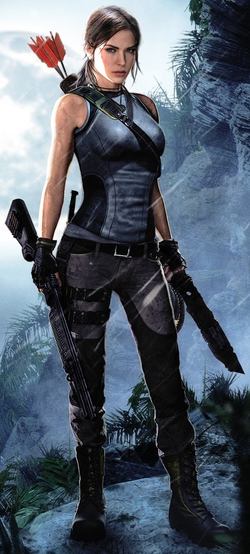 Lara Croft (ララ・クロフト, Rara Kurofuto), is both a fictional character and protagonist of the Uncharted Raider series created by Amy Hennig and Toby Gard. She is a highly intelligent and athletic English archaeologist.
She is also a Tomb Raider and explorer, who ventures into ancient tombs and hazardous ruins around the world. After being forced to survive on Yamatai she became dedicated to discovering all the secrets and myths of the world.
Lara is in the formative years of her career, expanding her already extensive knowledge and skill set and becoming a hardened survivalist and deadly combatant.
"A famous explorer once said that 'The extraordinary is in what we do, not who we are."
—Lara Croft.
Appearance & Biography
[
]
Voice Actor: Camilla Luddington (English), Yūko Kaida (Japanese), Not Known (Arabic), Not Known (Basque), Not Known (Brazilian), Not Known (Cantonese), Not Known (Catalan), Not Known (Chinese), Not Known (Croatian), Not Known (Danish), Not Known (Dutch), Not Known (Finnish), Not Known (Filipino), Not Known (French), Not Known (Galician), Not Known (German), Not Known (Greek), Not Known (Hebrew), Not Known (Hong Kong), Not Known (Hungarian), Not Known (Indonesian), Not Known (Italian), Not Known (Korean), Not Known (Mandarin), Not Known (Norwegian), Not Known (Polish), Not Known (Portuguese), Not Known (Romanian), Not Known (Russian), Not Known (Serbian), Not Known (Spanish), Not Known (Swedish), Not Known (Tagalog), Not Known (Thai), Not Known (Valencian), Not Known (Ukrainian), Not Known (Brazilian Portuguese), Not Known (Canadian French), Not Known (European Spanish), Not Known (European Portuguese), Not Known (Latin American Spanish), Not Known (Latin Spanish), Not Known (Spain-Spanish)
Voice Actor (Young): Francesca Aston (English), Yūko Kaida (Japanese), Not Known (Arabic), Not Known (Basque), Not Known (Brazilian), Not Known (Cantonese), Not Known (Catalan), Not Known (Chinese), Not Known (Croatian), Not Known (Danish), Not Known (Dutch), Not Known (Finnish), Not Known (Filipino), Not Known (French), Not Known (Galician), Not Known (German), Not Known (Greek), Not Known (Hebrew), Not Known (Hong Kong), Not Known (Hungarian), Not Known (Indonesian), Not Known (Italian), Not Known (Korean), Not Known (Mandarin), Not Known (Norwegian), Not Known (Polish), Not Known (Portuguese), Not Known (Romanian), Not Known (Russian), Not Known (Serbian), Not Known (Spanish), Not Known (Swedish), Not Known (Tagalog), Not Known (Thai), Not Known (Valencian), Not Known (Ukrainian), Not Known (Brazilian Portuguese), Not Known (Canadian French), Not Known (European Spanish), Not Known (European Portuguese), Not Known (Latin American Spanish), Not Known (Latin Spanish), Not Known (Spain-Spanish)
Biography
[
]
Appearance
[
]
Hair Color: Brown
Skin Color: Caucasian
Eye Color: Brown
Age: Not Known
Birthday: February 14th, 1992
Height: 5 ft. 6 in. (1.68 m)
Weight: Not Known
Attributes:
[
]
Gallery
[
]
Background
[
]
Personality
[
]
Relationships
[
]
Friends/Allies
[
]
Ryan Duffy

Evelyn

Jameson

Marisa Chase

Endurance

Conrad Roth

(deceased)

Jonah Maiava

Elena Fisher

Samantha Nishimura

Joslin Reyes

Alex Weiss

(deceased)

Jeff Wynis

(deceased)

Grim Grimaldi

(deceased)

Victor Sullivan

Chloe Frazer

Remnants

Karl Schäfer

(deceased)

Sam Drake

Nadia

Ivan

Serafima

Kuwaq Yaku

Paititi
Family
[
]
Almina Marie Croft

(ancestor; deceased)

Thomas Edward Croft

(ancestor; deceased)

Scarlett Croft

(ancestor; deceased)

Griffin Croft

(ancestor; deceased)

Rose Croft

(great-grandmother; deceased)

R.J. Croft

(grandfather)

Richard Croft

(father; deceased)

Amelia Croft

(mother; deceased)

Errol Croft

(uncle)

Atlas de Mornay

(2nd uncle)

Benjamin Croft

(?; deceased)
Neutral
[
]
Rivals
[
]
Solarii Brotherhood

Mathias Vogel

(deceased)

Solarii Worshipers

Himiko (deceased)

James Whitman

(deceased)

Trinity

Rafe Adler (deceased)

Nadine Ross

Commander Rourke

(deceased)
Ana (deceased)

Konstatin

(deceased)

Cult of Kukulkan

Pedro Dominguez

(deceased)

Las Serpientes Que Caminan

Deathless Ones
Knighthood of the Dark Spore
Enemies
[
]
Abilities and Powers
[
]
Powers
[
]
Abilities
[
]
Physical Abilities
[
]
Fighting Style
[
]
Feats
[
]
Strength level
[
]
Speed
[
]
Durability
[
]
Skill
[
]
Miscellaneous Skills
[
]
Weaknesses
[
]
Equipment
[
]
Gadgets
[
]
Weapons
[
]
Gallery
[
]
Transportation
[
]
Gallery
[
]
History
[
]
Past
[
]
Synopsis
[
]
Uncharted Raider

[

]
Plot in the Series
[
]
Battles
[
]
Canon
[
]
Non-Canon
[
]
Events
[
]
Canon
[
]
Non-Canon
[
]
Discoveries
[
]
The Medusa Mask
The Merlin Stone
The Eye of Sharharettin
The City of

Shangri-La

The Lost Gold of Christopher Columbus
The Lucifer Text
Statue of the Cat
The Mandalas
Anime and Manga Differences
[
]
Translation and Dub Issues
[
]
Theme songs
[
]
Merchandise
[
]
Video Games
[
]
Playable Appearances
[
]
Enemy Appearances
[
]
Support Appearances
[
]
Non-Playable Appearances
[
]
See also
[
]
Etymology
[
]
External links
[
]
Notes & Trivia
[
]