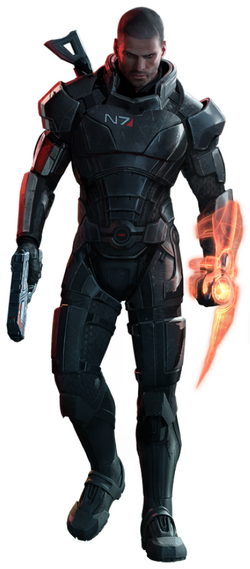 Lt Cdr. John Shepard (ジョン・シェパード, Jon Shepādo), is both a fictional character and protagonist of the Mass Wars series created by Casey Hudson and George Lucas. He is a long-time veteran soldier of the Systems Alliance Navy military forces.
He is a graduate of the Systems Alliance N7 special forces program (service no. 5923-AC-2826), a veteran of the Skyllian Blitz, and is initially assigned to the SSV Normandy as Executive Officer. He later becomes the 1st human to join the Citadel Council's Spectres.
Like his sister, John works as the leader of his own squad in a desperate mission to stop evil forces like the Reapers and the Sith Empire, who are sworn and dedicated to destroying and wiping out all forms of organic life in the galaxy.
"You're not even alive. Not really. You're just a machine. And machines can be broken!"
—Lt Cdr. John Shepard.
Appearance & Biography
[
]
Voice Actor: Mark Meer (English), Not Known (Japanese), Not Known (Arabic), Not Known (Basque), Not Known (Brazilian), Not Known (Cantonese), Not Known (Catalan), Not Known (Chinese), Not Known (Croatian), Not Known (Danish), Not Known (Dutch), Not Known (Finnish), Not Known (Filipino), Not Known (French), Not Known (Galician), Not Known (German), Not Known (Greek), Not Known (Hebrew), Not Known (Hong Kong), Not Known (Hungarian), Not Known (Indonesian), Not Known (Italian), Not Known (Korean), Not Known (Mandarin), Not Known (Norwegian), Not Known (Polish), Not Known (Portuguese), Not Known (Romanian), Not Known (Russian), Not Known (Serbian), Not Known (Spanish), Not Known (Swedish), Not Known (Tagalog), Not Known (Thai), Not Known (Valencian), Not Known (Ukrainian), Not Known (Brazilian Portuguese), Not Known (Canadian French), Not Known (European Spanish), Not Known (European Portuguese), Not Known (Latin American Spanish), Not Known (Latin Spanish), Not Known (Spain-Spanish)
Biography
[
]
Appearance
[
]
Hair Color: Brown
Skin Color: Not Known
Eye Color: Green
Age: Not Known
Birthday: Not Known
Height: Not Known
Weight: Not Known
Attributes:
[
]
Gallery
[
]
Background
[
]
Personality
[
]
Relationships
[
]
Friends/Allies
[
]
Family
[
]
Neutral
[
]
Rivals
[
]
Enemies
[
]
Abilities and Powers
[
]
Powers
[
]
Abilities
[
]
Physical Abilities
[
]
Fighting Style
[
]
Feats
[
]
Strength level
[
]
Speed
[
]
Durability
[
]
Skill
[
]
Miscellaneous Skills
[
]
Weaknesses
[
]
Equipment
[
]
Gadgets
[
]
Weapons
[
]
Gallery
[
]
Transportation
[
]
Gallery
[
]
History
[
]
Past
[
]
Synopsis
[
]
Mass Wars

[

]
Plot in the Series
[
]
Battles
[
]
Canon
[
]
Non-Canon
[
]
Events
[
]
Canon
[
]
Non-Canon
[
]
Discoveries
[
]
Anime and Manga Differences
[
]
Translation and Dub Issues
[
]
Theme songs
[
]
Merchandise
[
]
Video Games
[
]
Playable Appearances
[
]
Enemy Appearances
[
]
Support Appearances
[
]
Non-Playable Appearances
[
]
See also
[
]
Etymology
[
]
External links
[
]
Notes & Trivia
[
]