We're Getting Mutants in the MCU - The Loop
Play Sound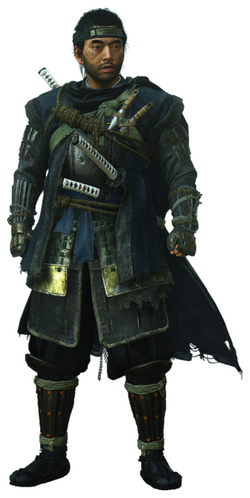 Lord Jin Sakai (境井 仁, Sakai Jin), is both a fictional character and protagonist of the Ghost of Heavenly Sword series created by Brian Fleming and Tameem Antoniades. He is a samurai who has been plagued by tragedy and the Mongolian invasion of his homeland.
Jin is a strongly, stoic warrior who has barely survived a disastrous battle to repel invaders, and have wandered across the land. Several years before the series, he came across with Sensei Shen, who have requested to his help with a sword wielder to defeat King Bohan.
But in order to help them defeat King Bohan's forces, he must learn to control his emotions, master the Arts of the Samurai, as well as the mysterious "Ghost" vigilante tactics that he must use in order to protect his homeland and repel the Mongolian Army invaders.
"I am not your son. I am the Ghost."
—Jin Sakair.
Appearance & Biography
[
]
Voice actor: Daisuke Tsuji (English), Kazuya Nakai (Japanese), Not Known (Arabic), Not Known (Basque), Not Known (Brazilian), Not Known (Cantonese), Not Known (Catalan), Not Known (Chinese), Not Known (Croatian), Not Known (Danish), Not Known (Dutch), Not Known (Finnish), Not Known (Filipino), Not Known (French), Not Known (Galician), Not Known (German), Not Known (Greek), Not Known (Hebrew), Not Known (Hong Kong), Not Known (Hungarian), Not Known (Indonesian), Not Known (Italian), Not Known (Korean), Not Known (Mandarin), Not Known (Norwegian), Not Known (Polish), Not Known (Portuguese), Not Known (Romanian), Not Known (Russian), Not Known (Serbian), Not Known (Spanish), Not Known (Swedish), Not Known (Tagalog), Not Known (Thai), Not Known (Valencian), Not Known (Ukrainian), Not Known (Brazilian Portuguese), Not Known (Canadian French), Juan Torelló (European Spanish), Not Known (European Portuguese), Not Known (Latin American Spanish), Alejandro Graue (Latin Spanish), Not Known (Spain-Spanish)
Biography
[
]
Appearance
[
]
Hair Color: Black
Skin Color: Pale
Eye Color: Dark Brown
Age: Not Known
Birthday: Not Known
Height: Not Known
Weight: Not Known
Attributes:
[
]
Gallery
[
]
Background
[
]
Personality
[
]
Relationships
[
]
Friends/Allies
[
]
Nariko (Deceased)

Lady Masako

Shen

Yuna

Takashi

Taka

(Deceased)

Tao

(Deceased)

Yuriko

(Deceased)

Itsuki

Kenji

Norio

Junshin
Family
[
]
Lord Shimura

(uncle)

Kazumasa Sakai

(father; deceased)

Lady Sakai

(mother; deceased)
Neutral
[
]
Rivals
[
]
Enemies
[
]
Mongols

King Bohan

Flying Fox

Temuge

Altan

Roach

Dogar

Raven King

Mamushi Brothers

Black Wolf

The Straw Hats

Ronins

Bandits
Powers and Abilities
[
]
Powers
[
]
=Abilities
[
]
Physical Abilities
[
]
Fighting Style
[
]
Feats
[
]
Strength level
[
]
Speed
[
]
Durability
[
]
Skill
[
]
Miscellaneous Skills
[
]
Weaknesses
[
]
Equipment
[
]
Gadgets
[
]
Weapons
[
]
Gallery
[
]
Transportation
[
]
Gallery
[
]
History
[
]
Past
[
]
Early history
[
]
Synopsis
[
]
Ghost of Heavenly Sword

[

]
Plot in the Series
[
]
Battles
[
]
Canon
[
]
Non-Canon
[
]
Events
[
]
Canon
[
]
Non-Canon
[
]
Early Versions
[
]
Anime and Manga Differences
[
]
Gallery
[
]
Translation and Dub Issues
[
]
Theme songs
[
]
Other Appearances
[
]
Other Media
[
]
Merchandise
[
]
Video Games
[
]
Playable Appearances
[
]
Enemy Appearances
[
]
Support Appearances
[
]
Non-Playable Appearances
[
]
See also
[
]
Etymology
[
]
External links
[
]
Notes & Trivia
[
]