Jurassic World: Dominion Dominates Fandom Wikis - The Loop
Play Sound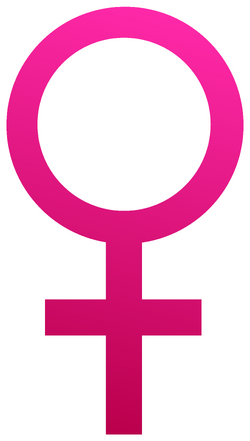 Females (雌, Jōyō), are the biological term used throughout the many worlds, and beyond. They are a gender identity within the binary genders. Women (女, Onna) is a term used for adults, and corresponds to the terms girl (for children and adolescents), female (adjective) and femininity.
"."
—About Females.
Overview
[
]
Anatomy and Design
[
]
Children born with vulvas are often raised with the expectation that they will identify as women, although intersex children may also be assigned to this identity while not possessing all of the above characteristics. Women may be cisgender (assigned female at birth and identifying as female) or transgender (assigned male at birth, yet identifying as female).
Identifying as a woman is often associated with female sex characteristics such as a vagina, a uterus, wide hips, breasts and a high-pitched voice, as well as a feminine gender expression and gender role, but these are not neccessary, and it is still possible to identify as a woman without them.
Gallery
[
]
Characteristics and Culture
[
]
Society
[
]
Energy
[
]
Powers and Abilities
[
]
Weaknesses
[
]
About
[
]
Known Females
[
]
Other featured female characters
[
]
Gallery
[
]
Other featured characters
[
]
Groups and Organizations
[
]
History
[
]
Past
[
]
Synopsis
[
]
Battles
[
]
Canon
[
]
Non-Canon
[
]
Events
[
]
Canon
[
]
Non-Canon
[
]
Other Media
[
]
Accuracy of terms
[
]
Anime and Manga Differences
[
]
Translation Issues
[
]
Translation and Dub Issues
[
]
Theme songs
[
]
See also
[
]
Etymology
[
]
External links
[
]
Notes & Trivia
[
]