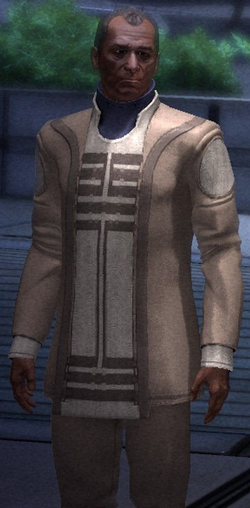 Ambs. Donnel Udina (ドンネル・ウーディナ, Donneru Ūdina), is both a fictional character and a deuteragonist from the Mass Wars series created by Casey Hudson and George Lucas. He is a human diplomat stationed at the Citadel.
He is humanity's most recent ambassador to the Council races (the first was Anita Goyle) and is determined to advance human interests wherever possible. He is mistrustful or at least apprehensive of the Shepards, particularly after John's induction into the Spectres.
Donnel often requires solid, irrefutable proof of anything before acting, a trait which often conflicts with Shepard's goals. Donnel plays the political game, refusing to rock the boat if it might endanger his standing—and therefore humanity's—with the Citadel Council.
"The galaxy needs leadership. Real leadership."
—Ambassador Donnel Udina.
Appearance & Biography
[
]
Voice Actor: Bill Ratner (English), Not Known (Japanese), Not Known (Arabic), Not Known (Basque), Not Known (Brazilian), Not Known (Cantonese), Not Known (Catalan), Not Known (Chinese), Not Known (Croatian), Not Known (Danish), Not Known (Dutch), Not Known (Finnish), Not Known (Filipino), Not Known (French), Not Known (Galician), Not Known (German), Not Known (Greek), Not Known (Hebrew), Not Known (Hong Kong), Not Known (Hungarian), Not Known (Indonesian), Not Known (Italian), Not Known (Korean), Not Known (Mandarin), Not Known (Norwegian), Not Known (Polish), Not Known (Portuguese), Not Known (Romanian), Not Known (Russian), Not Known (Serbian), Not Known (Spanish), Not Known (Swedish), Not Known (Tagalog), Not Known (Thai), Not Known (Valencian), Not Known (Ukrainian), Not Known (Brazilian Portuguese), Not Known (Canadian French), Not Known (European Spanish), Not Known (European Portuguese), Not Known (Latin American Spanish), Not Known (Latin Spanish), Not Known (Spain-Spanish)
Biography
[
]
Appearance
[
]
Hair Color: Black (graying)
Skin Color: Tan
Eye Color: Light Brown
Age: Not Known
Birthday: Not Known
Height: Not Known
Weight: Not Known
Attributes:
[
]
Gallery
[
]
Background
[
]
Personality
[
]
Relationships
[
]
Friends/Allies
[
]
Family
[
]
Neutral
[
]
Rivals
[
]
Enemies
[
]
Abilities and Powers
[
]
Powers
[
]
Abilities
[
]
Physical Abilities
[
]
Fighting Style
[
]
Feats
[
]
Strength level
[
]
Speed
[
]
Durability
[
]
Skill
[
]
Miscellaneous Skills
[
]
Weaknesses
[
]
Equipment
[
]
Gadgets
[
]
Weapons
[
]
Gallery
[
]
Transportation
[
]
Gallery
[
]
History
[
]
Past
[
]
Synopsis
[
]
Mass Wars

[

]
Plot in the Series
[
]
Battles
[
]
Canon
[
]
Non-Canon
[
]
Events
[
]
Canon
[
]
Non-Canon
[
]
Discoveries
[
]
Anime and Manga Differences
[
]
Translation and Dub Issues
[
]
Theme songs
[
]
Merchandise
[
]
Video Games
[
]
Playable Appearances
[
]
Enemy Appearances
[
]
Support Appearances
[
]
Non-Playable Appearances
[
]
See also
[
]
Etymology
[
]
External links
[
]
Notes & Trivia
[
]