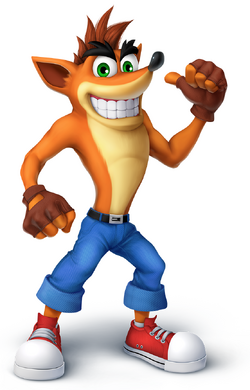 Crash Bandicoot (クラッシュ・バンディクー, Kurasshu Bandikū), is both a fictional character and protagonist from the Crash Kong series created by Andy Gavin and Shigeru Miyamoto. He is one of the adventurous heroes from an island on the other side of the world.
He is a genetically-modified eastern barred bandicoot created by his arch-nemesis, Dr. Neo Cortex. Throughout most of his life, Crash acts as one of the main oppositions against Dr. Cortex and King K. Rool and their schemes for world domination.
Crash is often accompanied by his primate allies, father figure and mentor, biological sister and adopted brother, Crash and Coco's pets Polar and Pura, and on rare occasions, his equally goofy doppelganger Fake Crash to protecting the Crystal Coconut.
"Whoa!"
—Crash's main catchphrase.
Appearance & Biography
[
]
Voice Actor: Jess Harnell (English), Makoto Ishii (Japanese), Not Known (Albanian), Not Known (Arabic), Not Known (Basque), Not Known (Brazilian), Not Known (Cantonese), Not Known (Catalan), Not Known (Chinese), Not Known (Croatian), Not Known (Dutch), Not Known (Finnish), Not Known (Filipino), Not Known (French), Not Known (Galician), Not Known (German), Not Known (Greek), Not Known (Hebrew), Not Known (Hong Kong), Not Known (Hungarian), Not Known (Indonesian), Not Known (Italian), Not Known (Korean), Not Known (Mandarin), Not Known (Norwegian), Not Known (Polish), Not Known (Portuguese), Not Known (Romanian), Not Known (Russian), Not Known (Serbian), Not Known (Spanish), Not Known (Swedish), Not Known (Tagalog), Not Known (Thai), Not Known (Valencian), Not Known (Ukrainian), Not Known (Brazilian Portuguese), Not Known (European Spanish), Not Known (European Portuguese), Not Known (Latin American Spanish), Not Known (Latin Spanish)
Biography
[
]
Appearance
[
]
Crash generally appears as an orange humanoid bandicoot with a black nose, thick black eyebrows, green eyes and reddish-brown hair on his head, styled into a typical Mohawk. He has a whitish peach colored stomach and muzzle.
Crash's main attire consists of a pair of blue denim jeans (which gained metal plates on the knees later ward). He also wears white boxers with red hearts on them. Crash can also always be seen with fingerless gloves. He has been known to don other attires when needed, such as scuba diving gear, a biker's jacket, and numerous others.
Hair Color: Reddish-Brown
Skin Color: Peach
Eye Color: Green
Age: Not Known
Birthday: Not Known
Height: Not Known
Weight: Not Known
Attributes

[

]
Gallery
[
]
Background
[
]
Personality
[
]
Crash is reckless and a little goofy, but heroic nonetheless. He appears to be clumsy even as a master of his brawling abilities, being able to lose time with his Sky-Chi should he entangle himself with the yo-yo. He also appears to be a bit of a showoff despite his otherwise humble behavior, declaring his actions as "extreme" before doing them.
Relationships
[
]
Friends/Allies
[
]
Team Bandicoot

Nitro Squad

Tawna Bandicoot

(girlfriend)

Ami Bandicoot

Megumi Bandicoot

Liz Bandicoot

Isabella Bandicoot

DK Krew

Diddy Kong

Dixie Kong

Cranky Kong

Wrinkly Kong

Candy Kong

Kiddy Kong

Lanky Kong

Chunky Kong

Tiny Kong

Funky Kong

Dread Kong
Karate Kong
Ninja Kong
Sumo Kong

Penta Penguin

K. Lumsy

Ebenezer Von Clutch

Pasadena O'Possum

Yaya Panda

Apo-Apo

Chick Gizzard Lips

Stew

Banana Fairies

Farmer Ernest

Skylanders

Master Eon

Cali

Flynn

Hugo

Mags
Family
[
]
Evil Crash

(10th dimension counterpart)

Coco Bandicoot

(sister)

Crunch Bandicoot

(adoptive brother)

Aku Aku

Polar

(pet)

Pura

Baby T

(pet)
Neutral
[
]
Eddie the Mean Old Yeti

Brain
Rivals
[
]
Enemies
[
]
Team Cortex

Nina Cortex

Dr. Nitrus Brio

Dr. N. Gin

Dr. Nefarious Tropy

Dr. Ctortex's Lab Assistants

Uka Uka

Ripper Roo

Koala Kong

Pinstripe Potoroo

Komodo Bros.

Tiny Tiger

Dingodile

Rilla Roo

N.Trance

Kremling Krew

Papu Papu

Kaos

Team Oxide

Emperor Velo XXVII

Nitros Oxide

Zem

Manky Kongs

The Elementals

Ghastly King

The Evil Twins

Kamek

Rusty Walrus

Bearminator

Willie Wumpa Cheeks

Madame Amberly

Tikimon

Tiki Tak Tribe

Titan Mutants

Snowmads

Doomlanders

Glumshanks

Ripto
Powers and Abilities
[
]
Over the series Crash develops several powers and is one of the only (being the first) characters to possess them, the other/second being Coco who shares two abilities with him.
Since Dr. Neo Cortex mutated him, Crash was given enhanced abilities, including enhanced stamina and strength. His signature move is his spin attack, though he can also use his agility to punch at incredible speeds. Crash has been shown to possess several abilities pertaining to physical prowess and endurance.
Powers
[
]
Abilities
[
]
Physical Abilities
[
]
Combat Skills
[
]
Fighting Style
[
]
Techniques and Moves
[
]
Attacks
[
]
Enhanced strength
Enhanced stamina
Cyclone Spin
Super Slide
Crate Going and Body Slam
Cyclone Spin Combo
Box O' Rockets
Move Skills
[
]
Feats
[
]
Strength level
[
]
Speed
[
]
Durability
[
]
Skill
[
]
Miscellaneous Skills
[
]
Weaknesses
[
]
Equipment
[
]
Gadgets
[
]
Weapons
[
]
Gallery
[
]
Transportation
[
]
Gallery
[
]
History
[
]
Past
[
]
Synopsis
[
]
Crash Kong

[

]
Legacy
[
]
Battles
[
]
Canon
[
]
Non-Canon
[
]
Events
[
]
Canon
[
]
Non-Canon
[
]
Achievements
[
]
Anime and Manga Differences
[
]
Translation and Dub Issues
[
]
Theme songs
[
]
See also
[
]
Etymology
[
]
External links
[
]
Notes & Trivia
[
]