We're Getting Mutants in the MCU - The Loop
Play Sound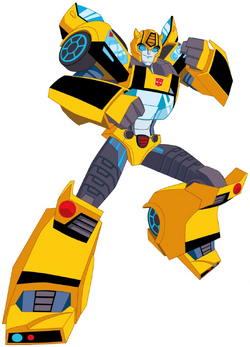 Bumblebee (バンブルビー, Banburubī), nicknamed as "Bee" (ビー, Bī), is both a fictional character and protagonist from the MDC's Transformer Titans series created by Sam Register and Bob Haney. He is small, but brave, and one of the most well-liked Autobot scouts.
He is one of Optimus Prime's most trusted lieutenants, and also however, one of the smallest and physically weakest Autobots. He's full of energy and determination to do the right thing, and can always be counted on to volunteer for action.
His small size, matched with his impressive speed, bottomless well of luck, determination and bravery, made him an excellent scout and messenger on war-torn Cybertron. He would gladly give his life to protect others and stop the Decepticons.
"Bumblebee, it wouldn't kill you to exercise caution."
—Ratchet, to Bumblebee.
Appearance & Biography
[
]
Voice Actor: Dan Gilvezan (English), Yoku Shioya (Japanese), Not Known (Albanian), Hossam Adel (Arabic), Not Known (Basque), Paulo Pinheiro (Brazilian), Not Known (Cantonese), Not Known (Catalan), Sun Ye (Chinese), Not Known (Croatian), Not Known (Dutch), Riku Korhonen (Finnish), Not Known (Filipino), Alessandro Bevilacqua (French), Not Known (Galician), Hans-Rainer Müller (German), Not Known (Greek), Not Known (Hebrew), Not Known (Hong Kong), Not Known (Hungarian), Not Known (Indonesian), Alessandro Capra (Italian), Su-jin Gang (Korean), Not Known (Mandarin), Not Known (Norwegian), Not Known (Polish), Márcio Araújo (Portuguese), Not Known (Romanian), Not Known (Russian), Not Known (Serbian), Not Known (Spanish), Not Known (Swedish), Not Known (Tagalog), Not Known (Thai), Not Known (Valencian), Not Known (Ukrainian), César Marchetti (Brazilian Portuguese), Carlos Larios (Castilian Spanish), Francis Lax (European French), Not Known (European Spanish), Not Known (European Portuguese), Roberto Alexander (Latin American Spanish), Not Known (Latin Spanish), Jordi Nogueras (Spain-Spanish)
Biography
[
]
Being one of the smallest of the Autobots, Bumblebee excels in the art of espionage and reconnoissance. His small stature allows him the opportunity to get places his friends could not. He deeply admires his larger, more physically capable team mates and does his best to emulate them. He does not realize, however, that they deeply admire him for his dedication and skill.
Despite being one of the youngest and inexperienced Autobots serving under Optimus Prime, Bumblebee's courage makes him stand apart from others. Likes most Autobots with a spark of courage, Bumblebee presses on and has become one of Optimus Prime's closest friends. He is a capable fighter and a devoted friend that has the respect he so deeply craves.
Appearance
[
]
Robot Mode
[
]
Bumblebee is much smaller than the other Autobots. He was primarily colored in yellow, with several rim strips of black on his body.
Vehicle Mode
[
]
His vehicle mode on Cybertron was a Cybertronian car, when arriving to Earth he has adapts the Earth vehicle mode of a Volkswagen New Beetle car.
Hair Color: N/A
Skin Color: Not Known
Eye Color: Blue
Age: Not Known
Birthday: Not Known
Height: Not Known
Weight: Not Known
Attributes:

[

]
Gallery
[
]
Background
[
]
Personality
[
]
He is the youngest, bravest, yellowest, coolest, most energetic and epic scout of the Autobots in the ranks... or, at least, he thinks he is. A hyperactive wisecracker, Bumblebee is quite convinced he's the fastest—and coolest—thing on four wheels. He has a tendency to bite off more than he can chew, so it's a good thing he pals around with the massive Bulkhead. He does not take well to being called short, and his over-eager ways can get on Ratchet's nerves all too easily. Still, Bumblebee is good with people, as evidenced by his fast friendship with humans the Autobots would meet.
Relationships
[
]
Friends/Allies
[
]
Autobots

Arcee

Ratchet

Prowl

Smokescreen

Strongarm

Sideswipe

Drift

Windblade

Sunstreaker

Warpath

Cliffjumper

Alpha Trion

Prowl

Blurr

Chromia

Perceptor

Dynasty of Primes

Wreckers

Computron

Quickshot

Afterburner

Lightspeed

Nosecone

Strafe

Volcanicus

Grimlock

Swoop

Snarl

Sludge

Slug

Defensor

Superion

Victorion

Pyra Magna

Jumpstream

Dust Up

Stormclash

Skyburst

Rust Dust

Fortress Maximus

Emissary

Mini-Cons

Justice League

Teen Titans

Starfire

Raven

Cyborg

Beast Boy

Terra

Blue Beetle

Wonder Girl

Titans East
Family
[
]
Neutral
[
]
Rivals
[
]
Enemies
[
]
Decepticons

Fallen

Overlord

Blitzwing

Soundwave

Frenzy

Rumble

Laserbeak

Buzzsaw

Ravage

Knock Out

Airachnid

Nightjaw

Underbite

Thunderhoof

Fracture

Bisk

Lockdown

Dreadwing

Shadow Striker

Seekers

Thundercracker

Skywarp

Acid Storm

Slipstream

Insecticons

Sharpshot

Kickback

Hardshell

Devastator

Scrapper

Mixmaster

Scavenger

Long Haul

Bonecrusher

Hook

Predaking

Razorclaw

Tantrum

Divebomb

Headstrong

Saberclaw

Menasor

Motormaster

Breakdown

Wildrider

Dead End

Drag Strip

Scraplets
Abilities and Powers
[
]
Powers
[
]
Abilities
[
]
Bumblebee has the abilities Dash and Sonic Shockwave, and is a Scout chassis.
Physical Abilities
[
]
Combat Skills
[
]
Fighting Style
[
]
Feats
[
]
Strength level
[
]
Speed
[
]
Durability
[
]
Skill
[
]
Miscellaneous Skills
[
]
Weaknesses
[
]
Equipment
[
]
Gadgets
[
]
Weapons
[
]
Bumblebee carries an Energon Battle Pistol, a Laser Blade, and the "Skullbuster" shotgun.
Gallery
[
]
Transportation
[
]
Gallery
[
]
History
[
]
Past
[
]
Early life
[
]
Synopsis
[
]
Transformer Titans

[

]
Plot in the Series
[
]
Legacy
[
]
Battles
[
]
Canon
[
]
Non-Canon
[
]
Events
[
]
Canon
[
]
Non-Canon
[
]
Achievements
[
]
Anime and Manga Differences
[
]
Translation and Dub Issues
[
]
Theme songs
[
]
See also
[
]
Etymology
[
]
External links
[
]
Notes & Trivia
[
]