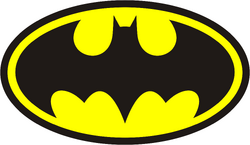 The Bat Family (バットファミリー, Batto Famirī), is a group that appears in the DC Marvels series created by C. B. Cebulski and Jim Lee. It is a close knit group of talented vigilantes dedicated to the cause of justice and the eradication of crime.
From the start, Bruce Wayne trusted a scant few with the details of his secret life, but as his crusade wore on and he realized that others shared his deeply abiding hunger for justice.
Orphaned circus aerialist Dick Grayson would soon become his squire, even the daughter of James Gordon would find inspiration in the shadow of the Bat. There would be more men and women like Bruce, lost youths drawn inexorably to a higher and more noble calling. A small army of selfless vigilantes pledging devoted service to Batman and his cause.
"."
—About the Bat Family.
Known members of the Bat Family
Edit
Reserve Members
Edit
Former Members
Edit
Impersonators
Edit
Affiliated Allies
Edit
Armored Robotic Custodian
Zetta-Drone
Bat Sentinel DP-5
Bat Sentinel C-Cu
Bat Drone
Bat-Drone
Security Drone
Security Sentry
Drone Walker
Perimeter Guard
Pacifier Drone
Arrester Drone
Flashbang Drone
Omega Sentry
Shield Armor
Wing Armor
Repair-Bot (Type 2)
Multiverse Batmen
Edit
Future Batman
Batman (Family Reunion)
Steampowered Batman
Ninja Batman
GCPD Batman
Primal Batman
Former Members
Edit
Impersonators
Edit
Affiliated Allies
Edit
Recruitment
Edit
Equipment
Edit
External links
Edit
Notes & Trivia
Edit
Community content is available under
CC-BY-SA
unless otherwise noted.